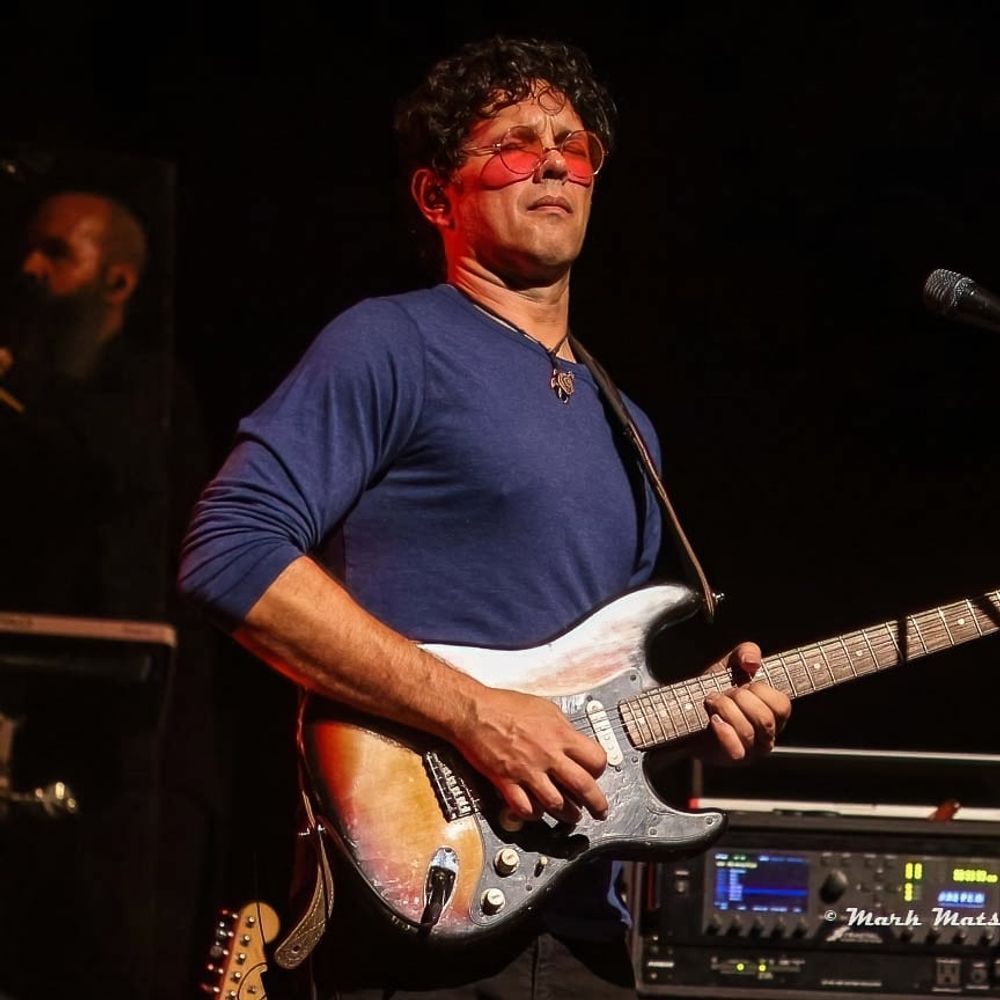 Brendon: Floyd Nation Guitars
Brendon began his obsession with Pink Floyd when introduced to Animals back in high school.  Born on Long Island, NY, he has been involved in recording and live music projects from LA, to Denver and finally establishing home base in SW Florida.
Brendon began developing guitar & synthesizer sounds for an unforseen Pink Floyd project back in 2017, paving the way for his ultimate involvement in Floyd Nation.
Using a hybrid approach, Brendon has built a guitar rig utilizing tube amps, period-similar analog effects and modern, digital technologies geared toward authentically presenting David Gilmour's awe-inspiring guitar tones. 
An in-depth look at Brendon's Rig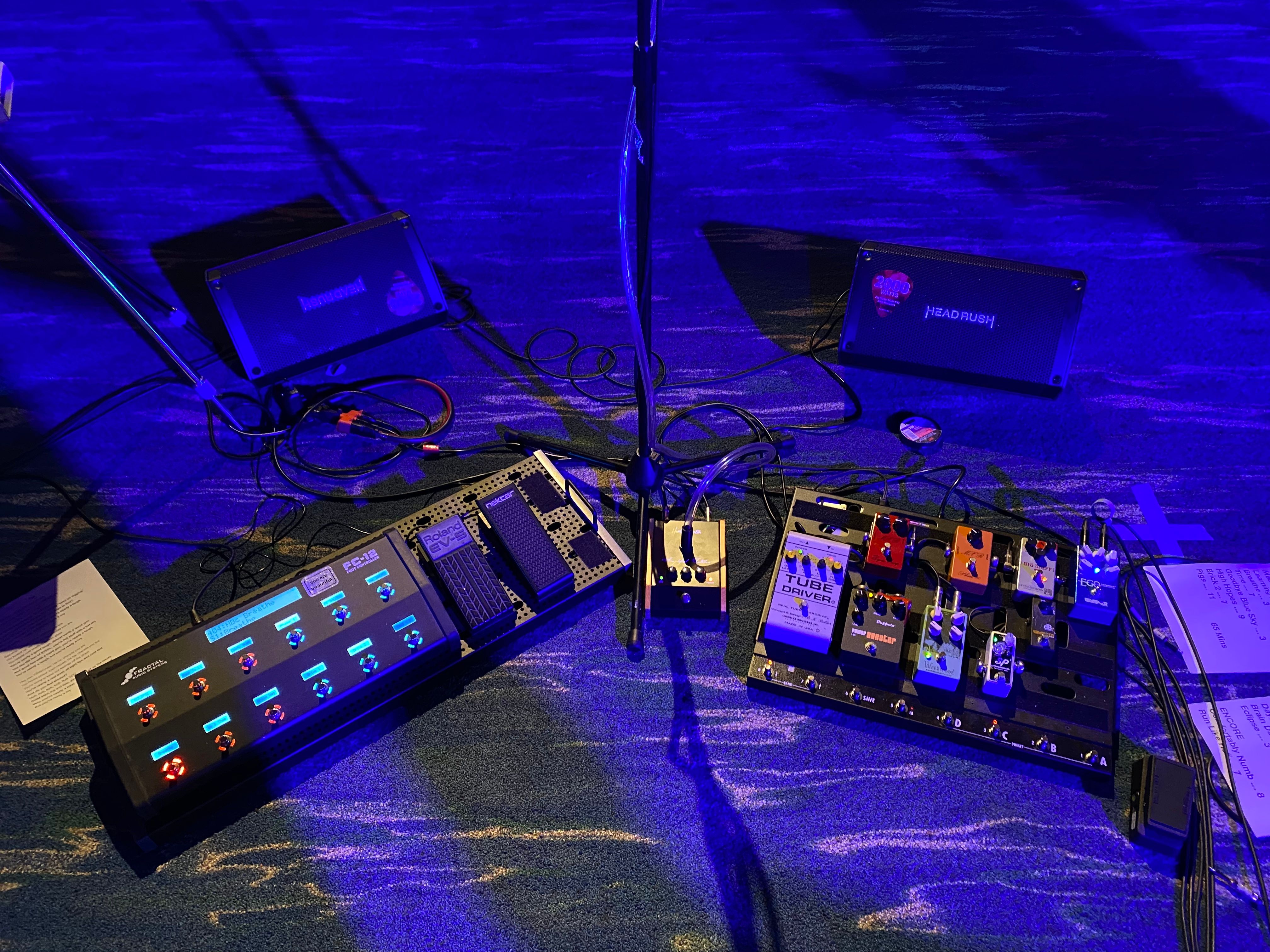 "You know, once you've had that guitar up so loud on the stage, where you can lean back and volume will stop you from falling backward, that's a hard drug to kick." ~ David Gilmour
I'll admit, I love volume!  There really is nothing like the sound of your guitar filling a theater full of people, bouncing off the walls and teetering on the edge of screaming feedback.  The thing is, to be considerate of your band mates on stage one needs to find a workable compromise.  An all-digital amp solution allows consistent results night after night with zero volume on stage.  The problem is, take the sound of the electric guitar out of the surrounding space and the connection between fingers, guitar and amplifier can be diminished.  So I found a beautiful compromise:
The Speaker Soak!!
Popping this 10-pound beauty between my 100-watt guitar powerhouse and my speaker cabinet allows me to crank the amp's tubes into overdrive while my on stage volume purrs like a lion cub!  But that's only part of the equation.  All that Gilmour-goodness requires some carefully selected effects pedals... a fine sprinkling of pixie dust to discover those edge-of-breakup but always fat & punchy tones - from the swirling cleans of Breathe to the searing solos of Comfortably Numb.
Enter the Fractal Audio AxeFX III
This all-digital, amp-modeler / FX-playground has recreations of just about any tone-box imaginable.  Gilmour was famed for bringing two, 200-pound rotating speaker cabinets on stage, two or more Hi-Watt amp heads and a wall of speaker cabinets.  Not to mention a massive pedal board filled with EQs, Fuzz pedals, Over Drives and more.  After all, why not?  He had plenty of help and enough stage real estate to swim in his very own ocean of blissful mayhem!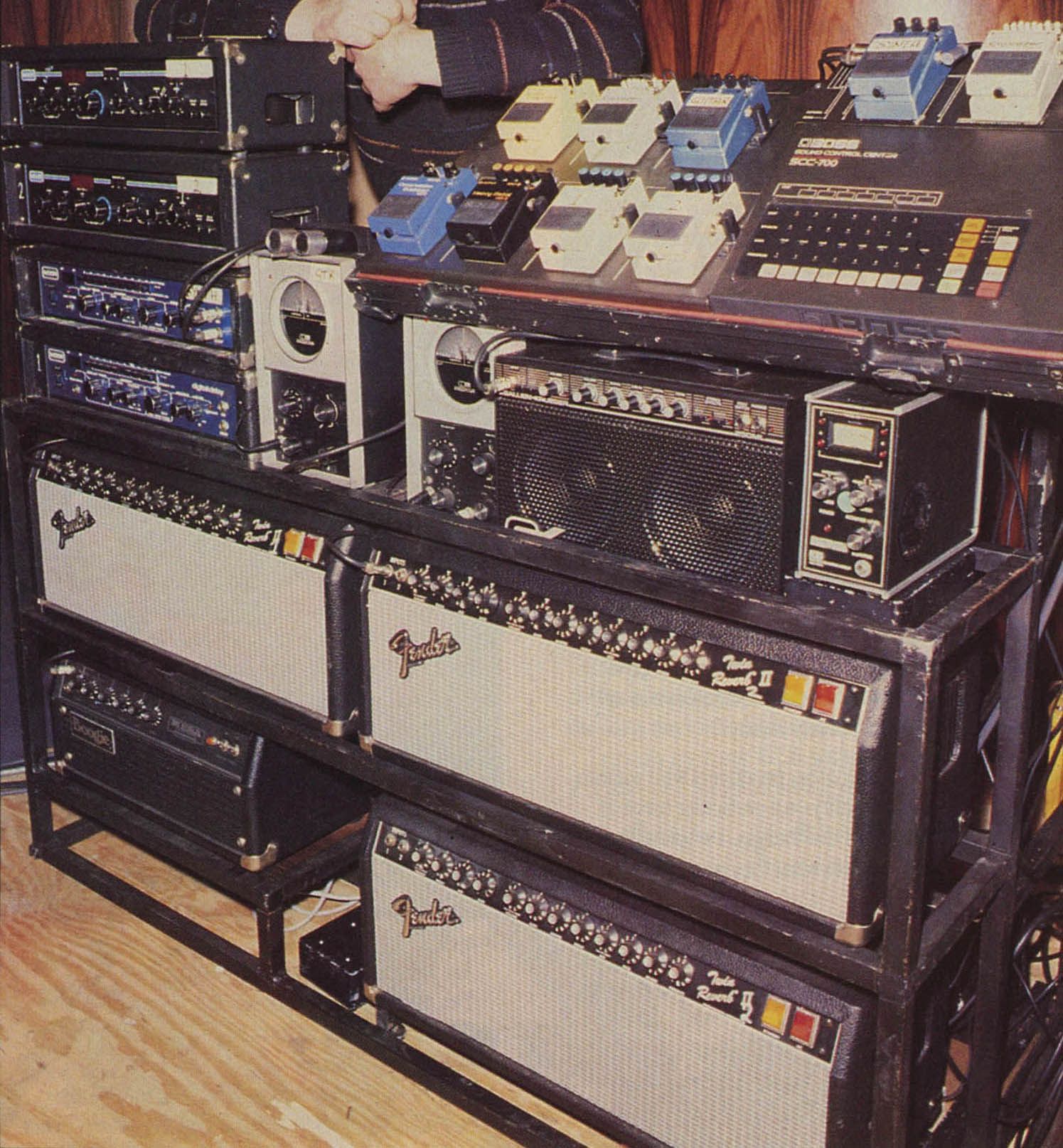 The Fractal AxeFX can do it all, and respectably!  And the exact same sound can be recalled night after night for unbeatable consistency.  After all, you long-time Pink Floyd fans are expecting to hear the iconic sounds you've heard countless times and we wouldn't want it any other way.
CHIMERA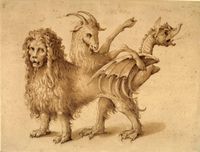 So can we have our pudding and eat it too??  Using the Fractal AxeFX as a hub, I send my guitar to my beloved all-tube guitar amp and back, then on to my pedal board and back, finally sending "my perfect tone" through the Fractal's glorious reverbs & delays and on to the FOH system.  And thanks to the power soak and some clever routing I get all the power of a monster analog rig under the complete control of infinite digital possibilities... at any volume I want!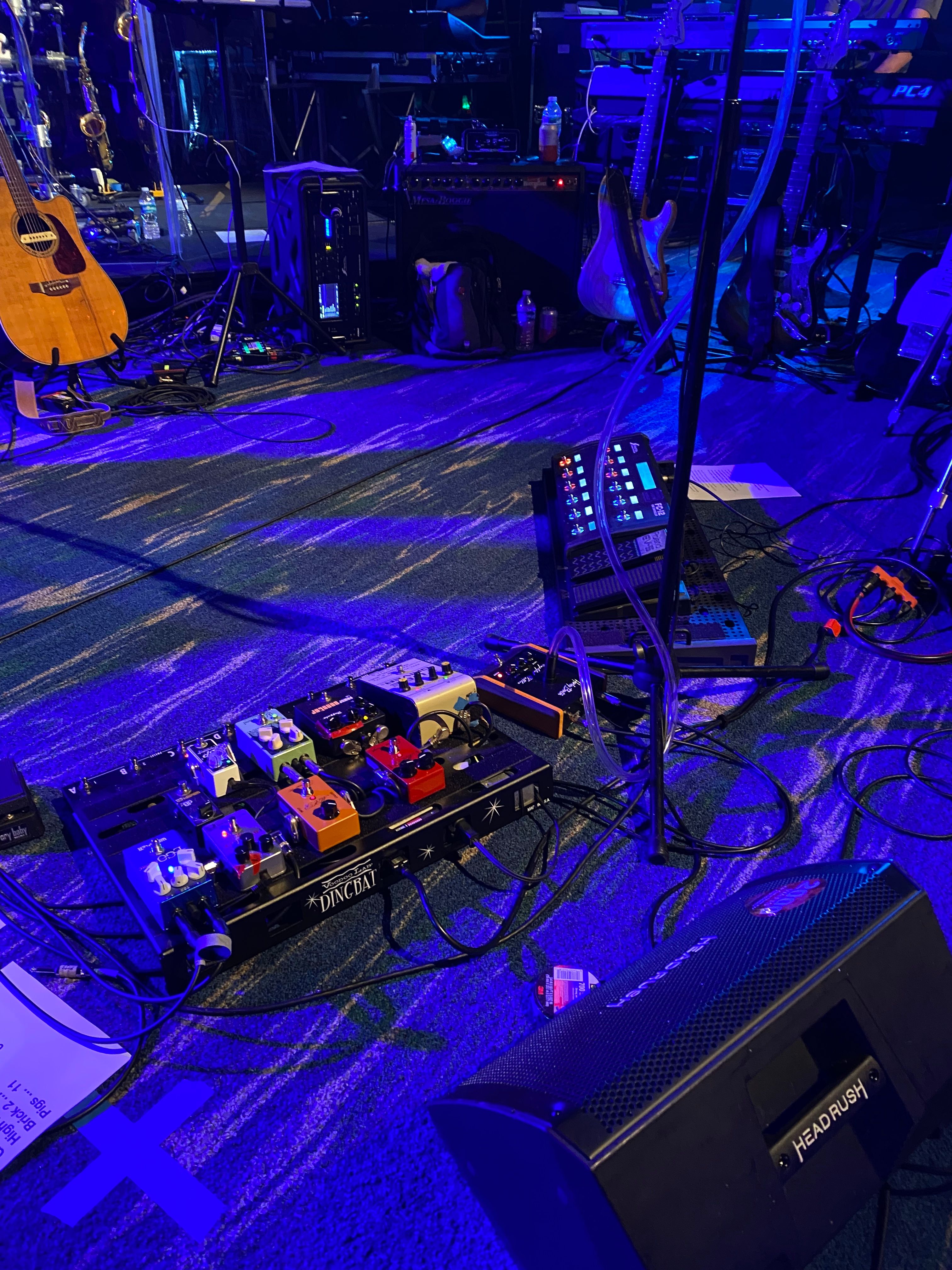 For those of you musicians who have come this far and would like to get the most out of your digital modeling system, drop me a line.  I can help with building custom sounds, to Pink Floyd-specific presets, to help building your hybrid rig from the ground up.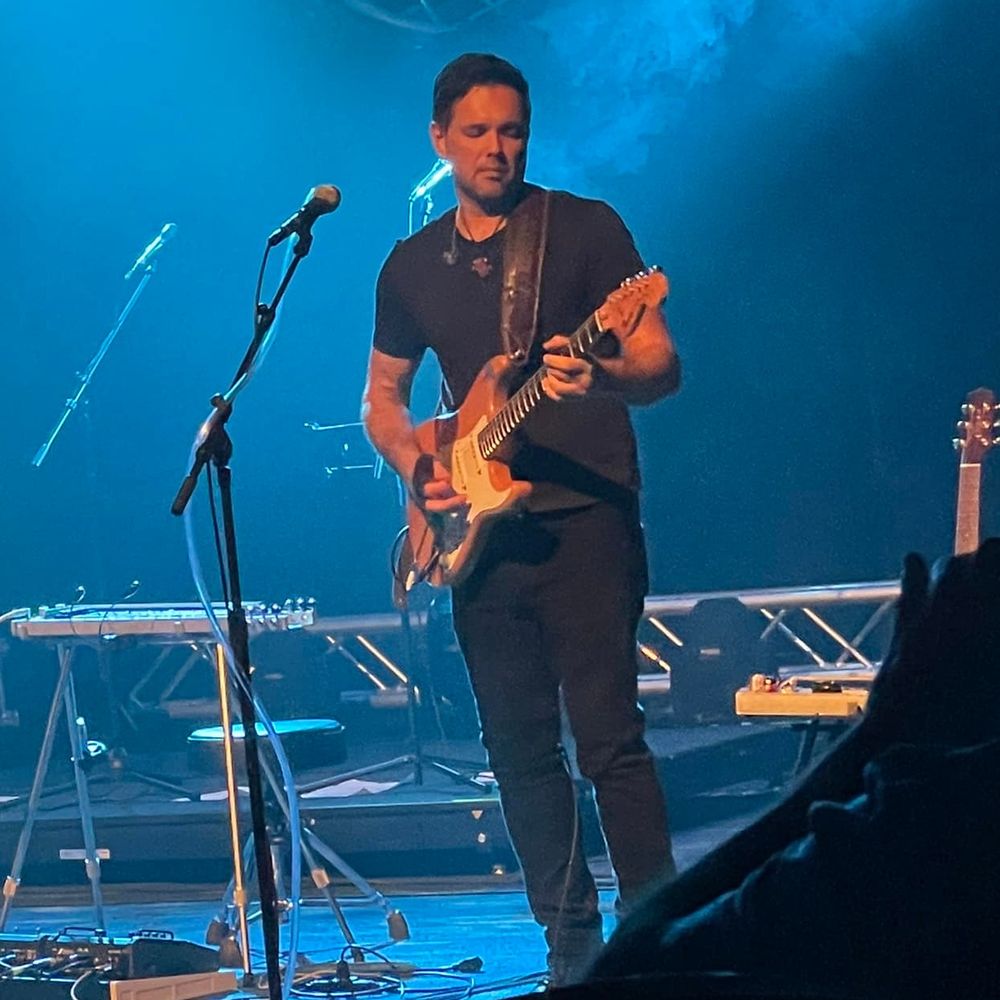 An interview with Brendon
Brendon McDonnell discusses his love for music and all things Floyd...
Q: How did you get into PF/Why Pink Floyd?
A: I discovered Pink Floyd during my Junior year of High School.  A friend gave me Animals on cassette and I ended up listening to it on repeat all night long.  At the time, I had been playing guitar for a little more than a year and was obsessed with Jimmy Page of Led Zeppelin.  I had already learned most of the Zeppelin guitar parts, I would say a more "raunchy" style of guitar for sure.
David Gilmour was so different from that.  The atmosphere and precision of his style really grabbed me and I was instantly hooked.  I also started to fall in love with the synthesizer and set out to learn all of the guitar AND synth parts of Pink Floyd.
Q: What do you love most about Pink Floyd? 
A: It always remains fresh for me.  After all these years listening to and playing their music it somehow always seems new.  This band was brilliant in the way that they connected relatable feelings with experimental sounds & textures that weren't over the listener's head.  It's like being wrapped in a comfortable blanket while gazing at The Milky Way. 
Q: What is it like to reproduce the sounds of your favorite band? 
A: I've been so influenced by the music of Pink Floyd, and the playing style of Gilmour, that it's permeated so much of my music through the years.  It's funny, tho, when you really get down to emulating the authenticity of the sounds you realize just how much sonic territory they covered, carving out such unique soundscapes, with just a fraction of the tools available to the modern musician. 
So it's been a process of almost working backwards to take sounds and ways of playing the guitar from a very refined, "perfected" approach to saying, "what tools did they have when they recorded this song and with what limitations did they nevertheless pull off such a brilliant sound?!"  In many ways, I've started from scratch in crafting many of our guitar sounds, stripping away all the refinement and starting from a more raw, fundamental sound and then building up using my tools more sparsely.  I've shifted focus to really squeeze as much spirit out of a sound with as little processing as possible.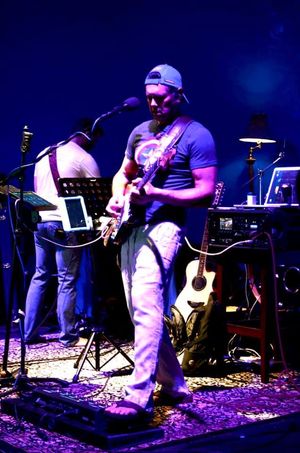 Q: Walk us through an example of building an authentic, Pink Floyd sound. 
A: I love the sound and feel of my guitar!  It really begins there.  Next, the amp needs to be clean and powerful.  So many of David's most iconic sounds are guitar, amp and maybe a little phaser or vibe. 
I love compression for the guitar and tend to use at least 2 at all times.  So take Shine On You Crazy Diamond as an example.  That first guitar solo is so simple yet so powerful; clean and punchy but never too thin.  It starts with a compressor mainly used to thicken the guitar and punching up the attack.  Then a little EQ to tame the midrange from getting too mushy.  Lastly, a little more compression to add sustain.  Cascading the compressors also softens the attack a bit which is important for that sound.  A touch of reverb and delay and that's all there is to it. 
(Actually, that's far from accurate.  Of all the Pink Floyd tones I've built I think this one has the most iterations.  I think I'm currently using version 11 or 12 of this one!) 
Q: How is your guitar rig similar to, or different from, David Gilmour's? 
A: Since David was so experimental with new technology as it came out I think I'm following a similar path.  David has been known to say that he recorded his guitar parts with equipment that anyone could buy off the shelf at any music store.  For him it was the Stratocaster, an ear-crushingly loud amplifier and a handful of carefully selected effects pedals. 
That's pretty much my approach.  I've tried lots of different effects pedals to find that mojo: compressors, fuzz boxes, over-drives etc. 
Today, and maybe in the spirit of Gilmour, I'm using a true hybrid rig.  Analog pedals, a loud amp and a Fractal AxeFX for mostly reverb and delays.  It's really the best of both worlds. 
Q: What is your favorite guitar for Pink Floyd? 
A: It all starts with the Stratocaster!  I've been using a Strat Ultra since the early 90s which has been my main axe for most projects I've been involved with.  I've tried so many different pickups in that guitar looking for those few extra percents of secret sauce. 
Lately, I acquired an early 70s Stratocaster that has so much mojo.  It's my new favorite. 
Q: What's your favorite Pink Floyd song and why? 
A: If I had to pick a favorite it would have to be Shine On You Crazy Diamond.  I could listen to or play that song forever.  It has such an arc from mellow to explosive.  The guitar really shines in that tune from being clean and exposed to that sweet, 70's crunch. 
If I had to nail down another it would have to be High Hopes.  Such a hauntingly beautiful song full of longing for some time gone by in Gilmour's life.  Plus I get to play that gorgeous Lap Steel solo at the end which is such a highlight for me!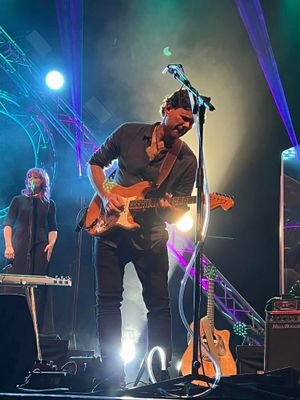 Q: What sets Floyd Nation apart from other tribute bands? 
A: Passion!  There is no love lost when we play, nothing is taken for granted.  I don't know how it happened but we're a bunch of Floyd nuts that somehow found each other and we all want nothing more than to present our favorite music in all it's glory.  Our band may be somewhat new to the fray but we've all been individually passionate about playing Pink Floyd music for decades so when we came together it was as if we'd been playing as a group for ages.  It simply doesn't get old and that is reflected in each performance, each of us bringing freshness and fire to the audience!
Q: What does the future hold for Floyd Nation? 
A: Up and onward.  We'll consider ourselves blessed to be doing this for decades to come and that's our intention.  Pink Floyd music brings people together as it exposes dreams, echoes peace and sends fans both new and old on epic journeys of the mind and spirit. 
For as long as that's needed in the world we'll be there Shining On!